History of the land, Farm 609
The site where Foxdale Court Office Park has been constructed was originally apart of a farm, called Foxdale Farm, of Farm No. 609, situated in the Southern Province of Northern Rhodesia. Foxdale Farm of 4,828 acres was purchased on the 17th July 1935 by Albert Bounsell from His Majesty.
Foxdale Farm was in the 1930's owned by Mr. Galoon, and was used as a grazing area for Cows. The ChiNyanja word for cow is N'gombe, and this is from where N'gombe compound derived its name. The Farm also had a red brick works company, called Foxdale Brick Works. The farm was later bought over by Mr. Zemack, and in 1975 was sold onto Josef and Victoria Huwiler. With the rapid growth and development of Lusaka, over the years, Farm 609 was further subdivided, and in 2009 daughter to Josef and Victoria Huwiler inherited a sub-division of Farm 609, of one hectare, 609/S. Jointly with investors Angelika constructed Foxdale Court Office Park which you see today.
The Original Farm House & the architectural inspiration for Foxdale Court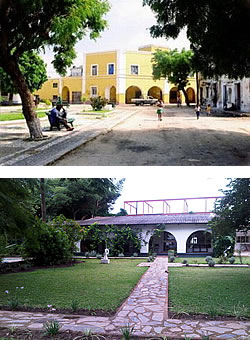 The original Farm House for farm 609 was built on the site where Foxdale Court has been developed. The Farm House was built in the 1960s, in an iconic design at the time; with a wide veranda and arches along the veranda.

The architectural design of the Farm House reminded the project founder Angelika, of the design of a building she had seen on ilha de Mozambique, of Portuguese architecture. The architectural design of Foxdale Court Office Park was thereby inspired by the design of the original farmhouse, and the design ofa building on ilha de Mozambique.

A portion of the original farmhouse of Farm 609 still stands within Foxdale Court.
Construction of Foxdale Court Office Park
Foxdale Court Office Park was built in two phases; the Kenneth Kaunda wing was construction from September 2010 – December 2011 (15 months) and Mama Betty wing was constructed between April 2012 – May 2013 (12 months).
The development was officially opened on 31st July 2013, by The First Republican President of Zambia, His Excellency Dr. Kenneth Kaunda.