Technital Consulting Zambia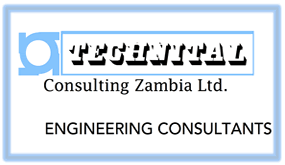 TECHNITAL CONSULTING ZAMBIA Ltd is a new Zambian-Italian Engineering Consultancy Company, entered on the Register of Companies of Zambia with effect from April 2013. TECHNITAL CONSULTING ZAMBIA Ltd is controlled by TECHNITAL S.p.A which holds the 79% of its shares while the remaining shares are held by two Zambian citizens.
TECHNITAL CONSULTING ZAMBIA Ltd. avails itself of the vast experience of its main shareholder Company which is one of Italy's leading consulting engineering firms. TECHNITAL SpA is a dynamic and rapidly expanding company whose sectors of activity cover all the engineering fields including environmental studies, hydrology/hydraulic studies, river engineering and all related environmental impact studies, as well as transport infrastructures design (roads and motorways, bridges, viaducts, railways, inland waterways, urban transport planning & traffic studies, port and airport infrastructures). In all of these fields, TECHNITAL provides the full range of services to cover the entire lifespan of the project, from feasibility through all design phases and implementation including supervision of works services during construction.