GraceChem Pharmacy
Category:
Eat & Shop,Shopping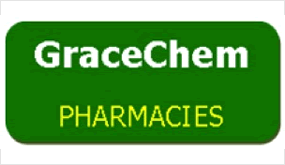 GraceChem Pharmacy is the retail business unit of GraceChem Pharmaceutical Services (GPS). Our mission is to contribute to increased access to quality pharmaceutical and allied products in Zambia.
We provide pharmaceutical care to our clients at our two outlets in Lusaka (Roma and Chilenje Chris Corner). Apart from the traditional dispensing, we also conduct rapid diagnosis for malaria, blood sugar and blood pressure monitoring.
Our products include prescription, pharmacy only and over the countermedicines, cosmetics, herbal products and medical supplies.
For further information visit our website http://www.gracechem.com